Throughout the time that we've all been together, as best friends, siblings, what have you, there has always been a cosmic connection between two of our little house hold. However, it took Sam and I a little while to figure it all out.





Dean had always taken care of us after a big hunt, not making tea and biscuits or anything, but generally making sure we were all okay. He'd been paying particular attention to Andie recently, though.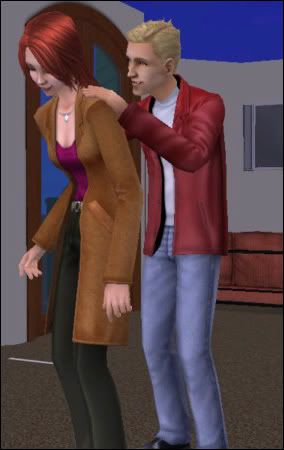 It wasn't long before it was completely obvious what was going on, and while Sam and I had our own little secret trist on the side, nothing ever went further than... well...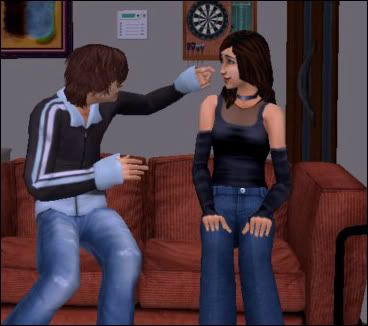 "You've got an eyelash on your cheek!"



Sigh. If I ever want this party to get started, I'm the one who would have to initiate apparently, because Sam is incredibly shy.

Meanwhile Dean and Andie had progressed so far into the relationship that Sam and I needed earplugs to sleep. Also, it had become frequent that Sam would wander into Andie and my room (Andie being GONE) and sleep in her bed because the two lovebirds had kicked him out of the boys' room.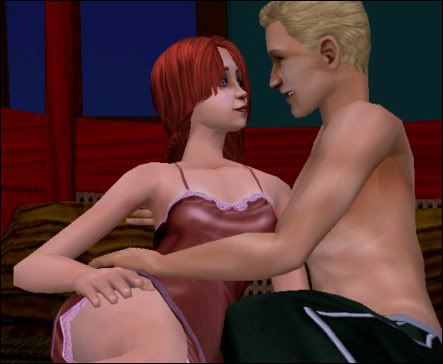 And we wonder what for, hm?



-hands over ears and sings- CARRY ON MY WAYWARD SON, THERE WILL BE PEACE WHEN YOU ARE DONE. LAY YOUR WEARY HEAD TO REEEEEST. DON'T YOU CRY NO MOOOORE.

Things had been going on normally, saving people, hunting things, when I woke up one morning to find Andie making barfy sounds in the bathroom.


Poor thing! But we were all excited, Dean especially.

Once she finally began showing her pregnancy, all of us basically went baby crazy.


Dean was taking extra care of her too. He even started making lunch especially for her (although it was always a plate of grilled cheese sandwiches) and double checking that she was lying down on the couch.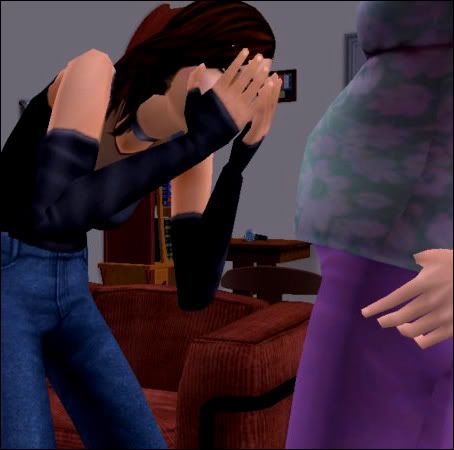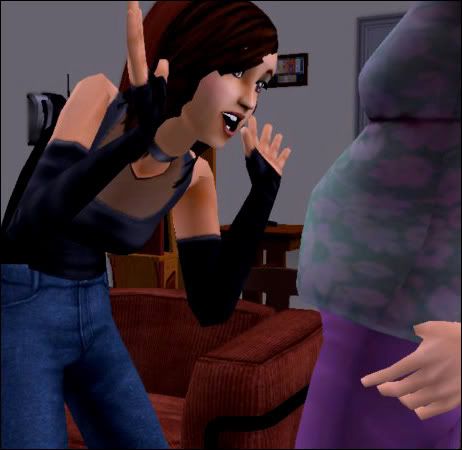 As the dork I am, I played peek-a-boo with a fetus.

Sam was in a different place entirely once the baby was announced, and he followed Andie around like a lost puppy always wanting to hear the heartbeat.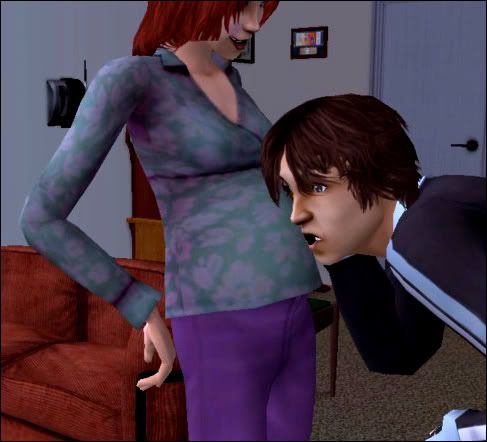 Though half the time he'd just point to her stomach and say "BABY!"

The day finally came when Andie went into labor, and holy cow did she scream.



Dean, however, couldn't hear her at first because he was listening to his iPod. Probably to Metallica. Hence why her screams didn't alert him.


Sam came running thinking a ghost was in the house and possessing her.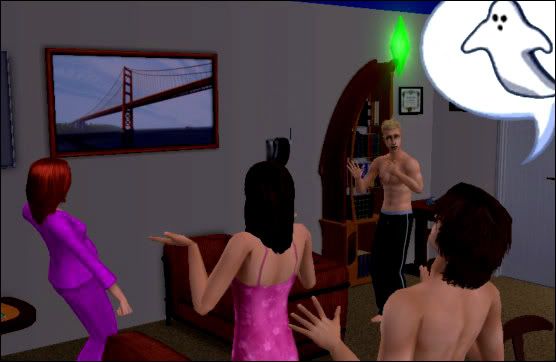 We realized it was too late to take her to a hospital and so she decided to have the baby right there in the living room. What a trooper. Standing up even! Dean didn't want to watch, I was completely confused as to what to do, and Sam was still pretty damn sure Andie was possessed and he was ready to go get the exorcism kit.

And then, almost instantly, the baby's born! It's a boy! Andie named him Paddywhack, and we have no objections. At all. None.


In a fit of excitement, Dean started WOOHOO'ing as Sam ran around with his finger in the air saying "We're number one! WE'RE NUMBER ONE!" I looked at the ceiling. A lot. You know, thankful that everything went well. *shifty eyes*.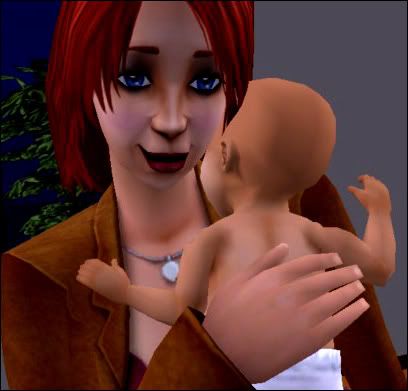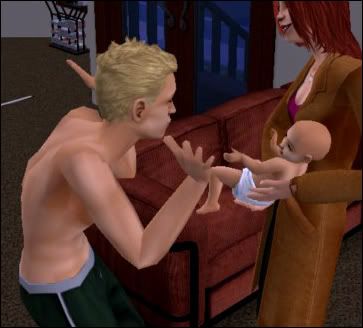 We all know that Dean's going to make a great dad, and Andie's is going to be a great mom.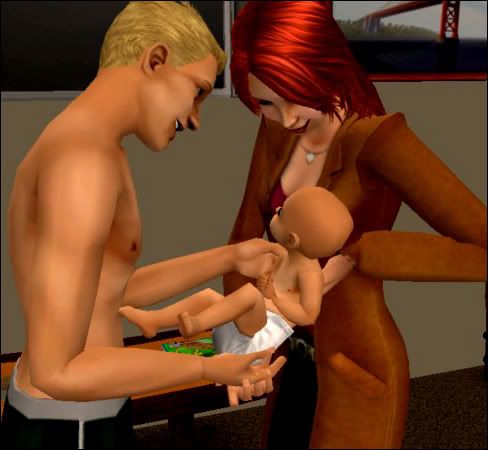 Have you seen a happier family?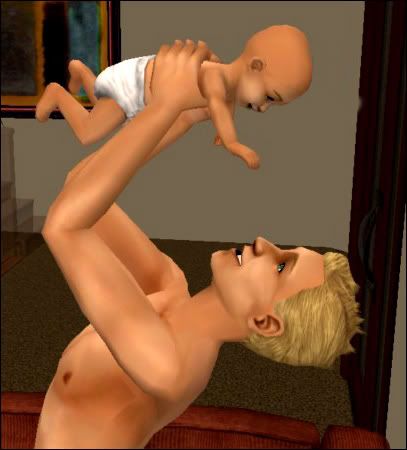 Love at first sight right there. Paddywhack (*facepalm*) loves making grabby hands at Dean, even as Dean throws his infant in the air. Aww.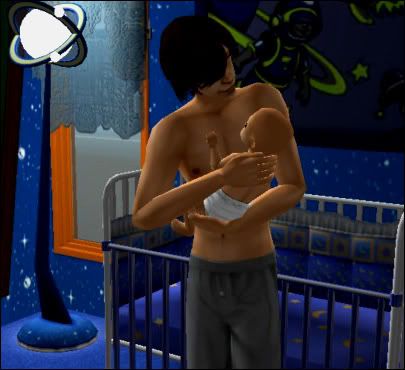 The room that we had all prepared for the new bundle of joy was outerspace related (you know, in the "the truth is out there" theme of it all) and Sam's favorite pasttime recently has been to turn the Saturn lamp on and off and on and off. As we all watched Sam tuck in his nephew, we thought that the world would always be a perfect place now, and that nothing could ever change it.

Or could it?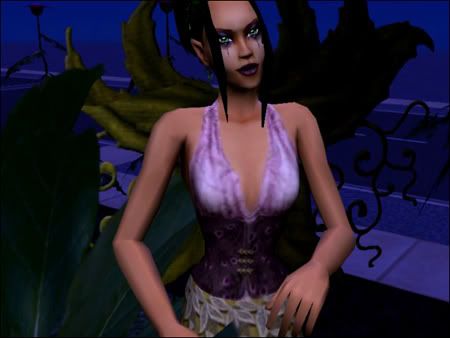 Tune in next time when our family battles a new foe!