I awoke the other morning to the horrible smell of burning rubber. Running into the hall and bumping into Andie and Sam as well we came to the conclusion that it had something to do with Dean since he wasn't in bed.

And we soon discovered why.





We all ran around the van in a vain attempt to do nothing which would somehow put the fire out (and when I say "we all" I mean everyone except for Dean)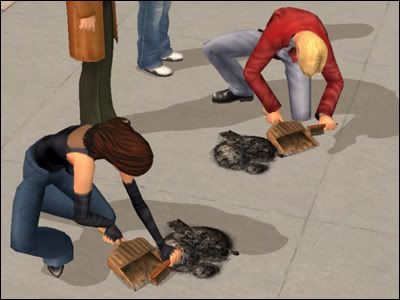 In the aftermath of the burning insanity we got to talking. Nobody brought up the fact that Dean was probably the one who set the fire to the van that he absolutely hated (and on second thought, we all hated it too) but we all did decide on one thing. We had enough money saved up for something special that all of us could enjoy for Christmas.



Merry Christmas to US! We piled into our rockTASTIC Chevy Impala and cruised around the neighborhood. Paddywhack loved it. And what baby wouldn't?

When we got back we were so much in the Christmas spirit that we decorated the entire house and got dressed up to show just how jolly we were.


Sam and I dressed up as Mr. and Mrs. Claus, Andie found a beautiful green and gold lined dress at the mall while we were out, and Dean donned an elf hat with ginormous ears. We all liked the ears.



Being the cook of the family, I decided it was about time to break out a grand feast.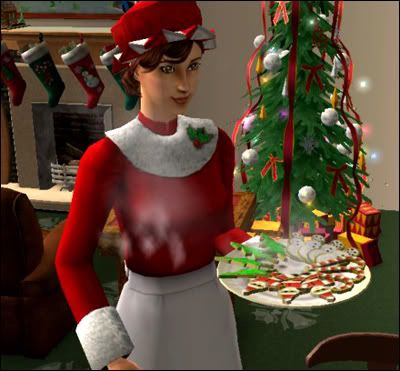 Though really, everyone was mostly interested in the Christmas cookies rather than the turkey.


-rolls eyes- Sam totally spoiled his appetite eating the cookie version of himself. The head came off first. Hee hee hee.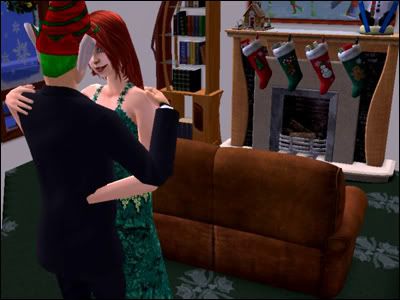 Dean and Andie put on some Burl Ives Christmas music and started dancing the way we all would expect two lovebirds to dance. D'awww. I'd begun to think that all the flirting and hints in the world wouldn't get Sam to finally make the first move. But then it happened.
Mistletoe.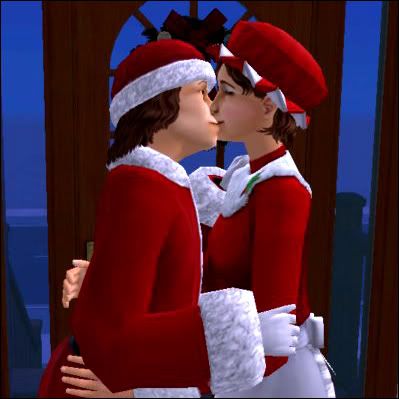 Merry Christmas for ME. Well, and Sam too I would hope.

We brought Paddywhack down to enjoy in the revelling just as the doorbell rang.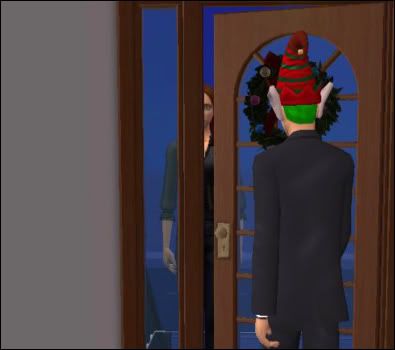 Dean answered the door and was greeted by a very distraught young woman.


She said her name was Shelly, and that she was being sexually harrassed by a ghost in her house.

After getting over initially how bizarre and funny that sounded, we got to work asking her questions...not to mention wondering how in the world she found us. She said there were rumors as to who took care of that man eating cow-plant from the last episode a few weeks ago. I still think that she stalked us or something. But I'm digressing here.


As it turned out, the being in her house wouldn't let her sleep and kept trying to kiss and touch her in inappropriate ways! He was dressed in a strange tuxedo, an OLD tuxedo, and he had long braided hair and seemed to be very wealthy. Every time he came to her he kept calling out "Lady Lillibeth". Well, we were on the case from that point on and we swore to Shelly that we'd help her figure out what was going on.

Removing our Christmas apparel we made our way over to the local library to look at really old news articles.


For some dumb reason, I picked out a romance novel instead of a research book. Don't ask.


About an hour later, Sam exclaimed that he'd found something! A newspaper article along with some pictures.

Lady Lillibeth and Count Kristoff came over to SimCity from their old country back in the 1800s where they were about to be married. As it turns out, on the day of their wedding, right when they were about to say their vows, Lady Lillibeth's jilted lover kidnapped her, killing Count Kristoff in the process and then murdering Lillibeth in the park. The place where they were to be married was on Shelly's property!

We looked at the pictures and showed them to Shelly.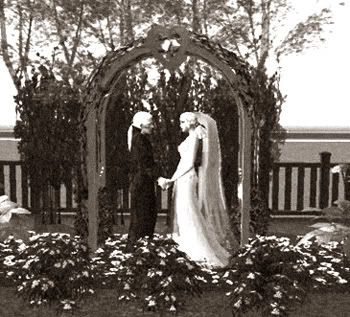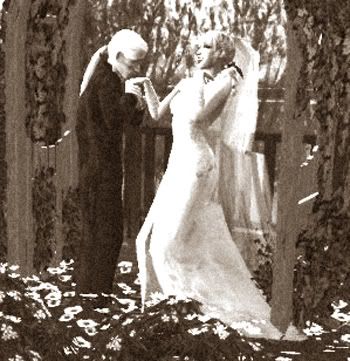 According to her, that was the exact thing haunting her every night since she moved in to her new house. No wonder the price was so low!

Knowing what we did about their story, we began to wonder if perhaps Lady Lillibeth was causing hauntings somewhere else on her own. There were a few mysterious deaths over the years in the park across town though we'd never thought to check it out before.

More research turned up some interesting eye witness stories out of our Little Green Men magazine from twenty years ago. And cross referenced with other newspaper stories, we figured it out.

Lady Lillibeth, haunting the park where she was murdered, went after wealthy men in a vain attempt to try and find her lover.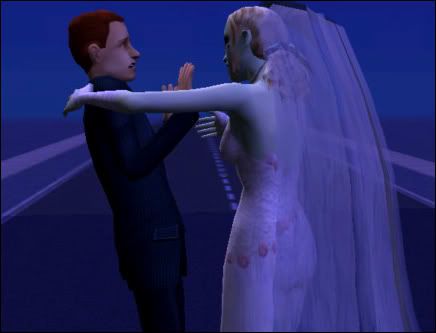 But when they rejected her, seeing she wasn't human and all, she got weepy and sad...


...then angry. The vengeance she was seeking due to her own gruesome death took its toll on the men whose affections she was trying to win.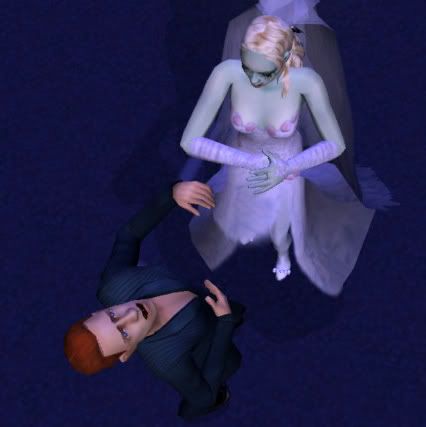 Eye witness reports got a little sketchy at this point, but all of them concluded that she killed them without even touching them.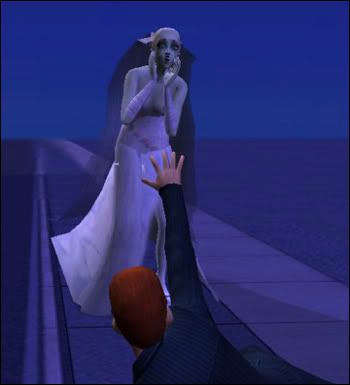 And she cheered as they died, before disappearing in a cloud of smoke.

Putting together the eye witness accounts, the newspaper clippings, and Shelly's story we understood what we had to do.

I stayed home with Paddywhack while Sam went off to the park to play his part, and Dean and Andie went to Shelly's to prepare her for what was going on.

When Andie and Dean got there, Shelly was already yelling for help.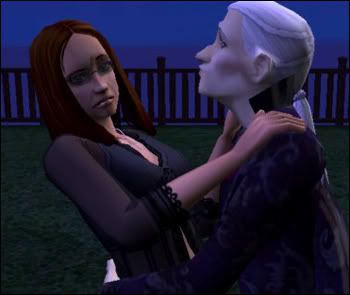 In plain terms she tried to tell Count Kristoff to stay the hell off of her...


But he didn't seem to get it.

It was then that we heard the sound of footsteps on pavement, and Sam yelling to get ready.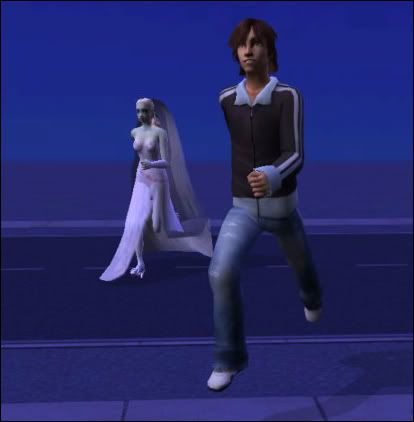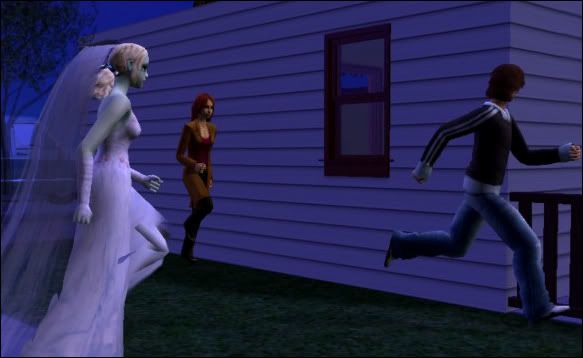 "Look behind you!" Shouted Shelly as she pointed behind Count Kristoff.



And he did. And what he saw made him start to weep.


His Lillibeth had returned to him.



And as they kissed finally after looking for each other for 200 years...


They exploded into a beautiful ball of light. And disappeared.

Well gosh darn, everyone felt real good about it all. Dean was surprised we didn't have to burn anything or cut off anything's head, but he was still overly excited about having the Impala so there weren't any vocal complaints. Besides, the Christmas spirit was in all of us. There was no need to send them to hell or something, right?

Shelly said her thanks


And the three of them headed on home where I'd been trying to keep Paddywhack away from the presents under the tree.

But as we all came in and they told me about the adventure we heard something strange. It turned out Paddywhack had found an unwrapped present under one of the tables that none of us had gotten him.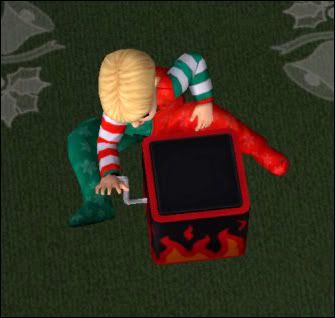 He seemed to like it though...


Or did he?

A/N: Tune in next time when the Fairy's Curse starts to show its ugly head.
Congratulations again to
restless_jedi for winning our Commenter of the Week award! I hope you enjoyed seeing yourself in this episode, Shelly!

Remember, each week one lucky commenter will get picked to be in our next episode. Just watch your emails! ♥

MERRY CHRISTMAS FROM ALL (*shifty eyes*) OF US HERE AT SIM!WINCHESTERS!